"The Hermit's Dog" by William Hayley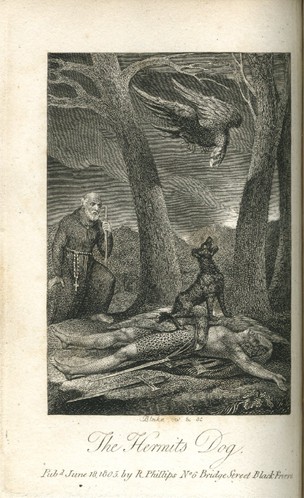 Number eleven of a set of twelve ballads describing animals is "The Hermit's Dog" by the British writer William Hayley (1745-1820). The simple poems are stylized in the Romantic period of the day, as is "The Hermit's Dog," which tells of the narrator-poet wandering the Alpine hills who happens upon a hermit. The hermit tells the story. One day while wandering about, the hermit heard a dog and came upon the sad scene of the dog's master dead on the ground, perhaps one or two days, menaced by vultures. The dog had faithfully stayed with his fallen master, killed one of the vultures, though not without being itself wounded, and the other vulture flew off at the hermit's approach. Both dog and master wore the cross of Malta. The dog would not leave his master, so the hermit brought the body near his own dwelling and buried it, and so the dog became his companion, whom the hermit names Hero. The hermit tells the poet that had people been half as loyal as this dog, he would not have sought out this wilderness as his solitary home.
What is noteworthy of the Hayley's Ballads is that they were illustrated by William Blake (1757-1827), including a print to "The Hermit's Dog."

---
"The Hermit's Dog" by William Hay
ley