Succeeding reports about the Old Believer Siberian hermit Agafya Lykova have recently appeared on the web. News agency Interfax indicates that she
has written a letter to the newspaper Krasnoyarsky Rabochy, asking for help. According to the letter, which was four pages long and was couriered over to the paper, Lykova is looking for a person to help her about the house. "I need help with firewood, about the house, with my garden, to mow hay. I am old, sick, and I feed giddy. I have a lump on my right breast. I have become very weak. I don't know if God will let me live through the winter," Lykova said in her letter. The hermit says she is feeling poorly and is freezing. "There is no firewood in the house, I need to log firewood every day, and I read psalms when I do it. I get short of breath, and I get very cold in the frost, my hands and my feet are cold. And I also have work about the house, in addition to the firewood," Lykova said in her letter.
URL: http://www.interfax-religion.com/?act=news&div=11035
The web site Focus-Fen follows up with news that
Russian authorities said they will dispatch a helicopter with food and other supplies to an elderly dweller of the Siberian taiga who had no contact with civilization until she was 33, RIA Novosti reported. Agafya Lykova, 68, pleaded for help in a letter she managed to send out from her riverside hut to the Krasnoyarsky Rabochy regional newspaper. The letter is written in block letters and employs obsolete pre-revolutionary orthography, according to a photocopy on the newspaper's website. Lykova claims in the letter that her health is deteriorating, which made it hard for her to prepare supplies for another cold season in the taiga. Temperatures in the area of the Abakan Ridge in the republic of Khakassia average minus 19 degrees Celsius (minus 2 degrees Fahrenheit). A helicopter will fly next week to Lykova's residence, carrying food, thread, 20 bales of hay and other necessities, the press service of Kemerovo Governor Aman Tuleyev said
URL: http://www.focus-fen.net/news/2014/01/18/324403/siberian-hermit-to-get-food-delivery-by-helicopter.html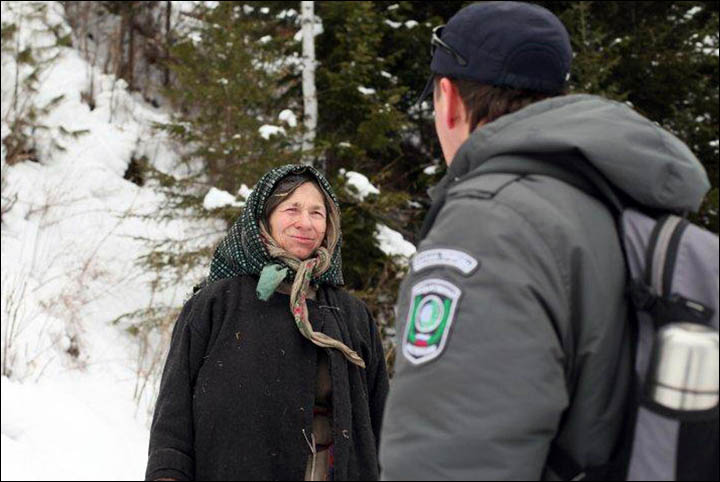 The governor of the province dispatched a helicopter with food, seeds for spring planting, and nature reserve personnel. The personnel hauled forest logs closer to Agafya's home. An accompanying doctor examined Agafya but could not persuade her to visit a hospital for more thorough testing. Although usually reticent, the 68-year old hermit was pleased to receive the visitors and smiled a lot.
URLs: http://siberiantimes.com/other/others/news/emergency-services-arrive-to-save-life-of-hermit-agafiya-lykova-russias-loneliest-woman/
http://www.dailymail.co.uk/news/article-2544932/The-hermit-decided-people-person-Woman-lived-26-years-Siberia-appeals-live-shes-lonely.html?ITO=1490&ns_mchannel=rss&ns_campaign=1490