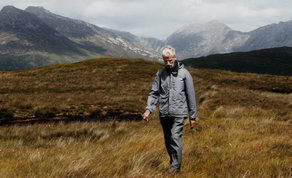 Mike Hannon is the director and producer of the forthcoming documentary film The Cloud of Unknowing, about a contemporary Irish hermit. An excerpt is available at Vimeo. Hannon comments on the film:
The Cloud of Unknowing is a nineteen minute documentary on a modern day hermit who dedicated his life to the mystical tradition of contemplative prayer. Rodney Thompson, a Cork man, spent almost thirty years in an isolated cottage in Connemara in pursuit of solitude, silence and prayer. Without electricity or running water, Mr Thompson lived simply, prayed ceaselessly and welcomed visitors to his hermitage close to Roundstone, Galway.

Filled with majestic vistas and robust Connemara weather, the film allows the viewer to step into the mind of a hermit, as the natural world unfolds at an unhurried pace.